This is a private music club, where the patrons value the luxury of a quiet listening environment away from the noisy crowds at other places. We love to be able to spread out comfortably and to hear the music and the lyrics. But there is space for dancing when your feet just can't resist the beat! Mac & Pat McAllister want to thank you for your support of the music these last two seasons. Even though it's been slow the past several months (you know why), we have tried to keep the music going for both you, the listeners, and the musicians. Your attendance makes this possible! And thanks to all the Local Color Alumni who are still answering the call for good music! A little bit of Local Color lives on up here on the mountain.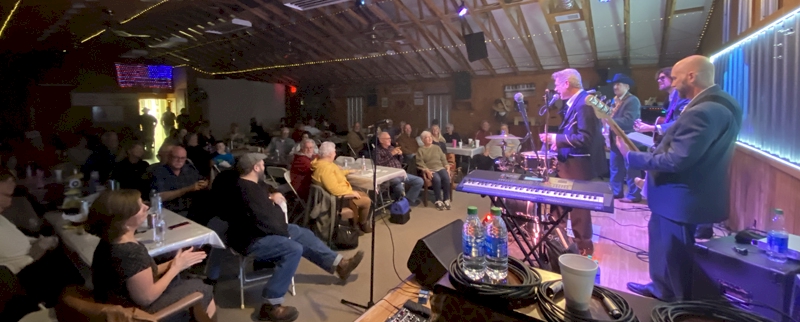 Friday, October 14 at 7:00 PM


Back by popular demand! Classic Country band for all you who have been asking for some good Country. Classic country from the 50s thru the 90s, with a handful of newer tunes. Jones, Haggard, Williams, Conway and Loretta, on up thru Clint Black and Alan Jackson and many others. Pedal steel guitar, really outstanding vocals. Jim Murray (guitar, vocals), Doug Lee (bass), Mike Rives (piano), Buddy Caudill (drums), Pete Nice (steel guitar, vocals), Joe Terry, (guitar, vocals), and the incomparable Liz Murray (vocals). $20.00 cover (cash, please).

Saturday, October 29 at 6:00 PM


Ca$h Domino Killers Halloween Bash!


CDK was a big hit last Halloween, so we're going to do it again! What could be more fun than dressing up for Halloween? Rocking and dancing to the Ca$h Domino Killers will be the perfect Halloween evening for grownups. Pirates, grab your princesses; Avengers, swing your angels; Hokus, hold on to your Pocus on the dance floor! Errick and the guys will put a spell on you, you provide the costume and the fun. Dance to "the Monster Mash" and lots more great music with the Killers! We asked Coach Saban to take the weekend off, and he said "OK for the Killers!" $20.00 cover (cash, please).

Friday, November 11 at 7:00 PM


Three on a String Patriotic Salute to Veterans


What better way to celebrate Veterans Day than with Three on a String? Our favorite Men of Merriment will shine the spotlight on military veterans with music and fun! Bring your favorite veteran and give him or her a hug. Better yet, bring a veteran ROOKIE. God bless America! $20.00 cover (cash, please).

Friday, December 2 at 7:00 PM


More details as we get closer to the event date.

Saturday, December 10 at 6:00 PM


Rick Carter 69th Birthday Bash!


Rick would love for you to join him as he celebrates this very special milestone in his life!! More details closer to showtime.